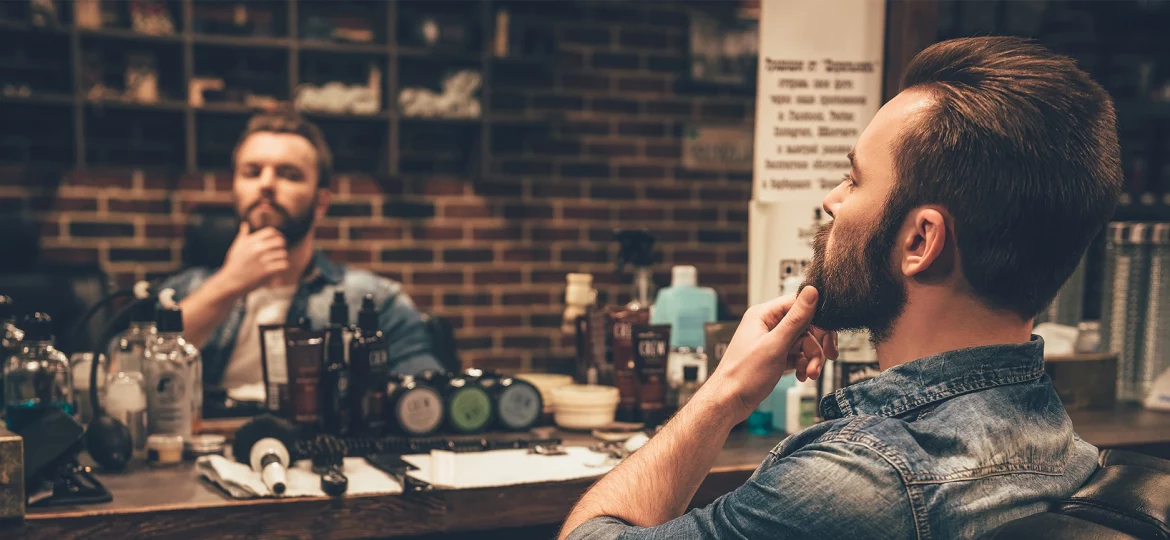 In the heart of Barrie, a vision was born, a vision that would redefine the very essence of barbershop services for men. At Hair Salon Barrie, we've always been more than just a place to get a haircut; we are a hub of transformation, a haven for men seeking not just grooming but a personalized experience.
Our journey to amazing barbershop reviews from our clients began with a simple yet profound realization. We recognized the need for something extraordinary in the men's hair grooming world in Barrie.
Men, just like anyone else, deserved a space where every aspect of the barbershop experience was tailored to perfection. It was this spark of insight that ignited the fire of Hair Salon Barrie.
Our barber shop reviews show how we go the extra mile to deliver top-quality haircut experiences for men like you. Keep reading to learn more about Hair Salon Barrie and see how our reviews transcend the average barbershop.
The Growth and Journey to Amazing Barbershop Experiences
As we embarked on this journey, we knew that excellence was not static; it was dynamic, ever-evolving. Over the years, we've adapted and redefined our services, keeping a keen eye on the evolving needs and desires of our clients.
We have cultivated a team of expert stylists who have honed their craft and can transform your haircut and beard grooming vision into a reality. The ambiance of our Barrie salon is more than just aesthetics; it's an environment where you can truly relax and rejuvenate.
Experienced Stylists
All of our barber shop reviews talk about the expertise of our hair stylists. Our team of experienced stylists isn't just limited to providing haircuts. We understand that services like beard lineups, hot towel shaves, and men's haircuts are more than just grooming; they are art forms.
Our Barrie hair stylists are masters of their craft, well-versed in the latest haircut trends and techniques, ensuring that you receive not just a service but a personalized experience. Whether you're seeking a classic beard lineup, a traditional hot towel shave, or a modern and trendy haircut, our experts have the expertise to make it happen. They understand the nuances of these services, ensuring precision and attention to detail.
Ambient Environment
Creating the right atmosphere is essential for your comfort when it comes to services like hot towel shaves and beard lineups. Our salon provides an ambient environment where you can truly relax.
The cozy setting, soothing music, and carefully designed décor contribute to the overall experience. It's not just a haircut; it's an escape from the daily grind, a chance to unwind and rejuvenate before or after a beard lineup or a hot towel shave.
Friendly Atmosphere
We know that undergoing grooming services like hot towel shaves and beard lineups can be a personal experience. Our friendly staff ensures that your visit is enjoyable from start to finish.
From the moment you walk in, you'll be greeted with a warm smile and a welcoming atmosphere. It's about making you feel at home, creating a space where you can trust our team with your grooming needs and relax in the hands of professionals.
Latest Haircut Trends
We don't just stop at traditional men's haircuts; we stay up to date with the latest trends in hairstyling. We understand your style is an extension of your personality.
Whether you're looking for a classic haircut or a modern, trendsetting style, we ensure your haircut is stylish and up-to-date. Our stylists are continuously trained to keep abreast of the ever-evolving world of men's grooming.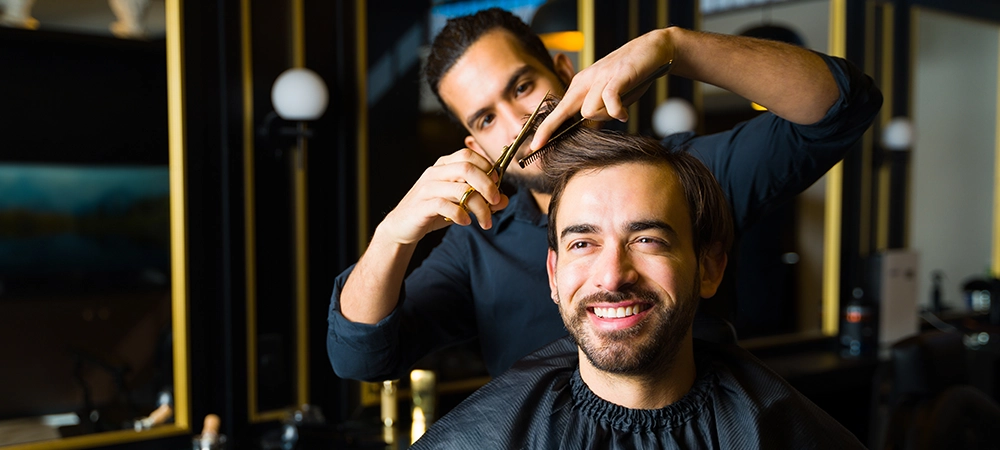 Advanced Barbering Equipment
Our excellent barbershop reviews are founded on the foundation of first-class hair-cutting equipment. We can deliver great all-around service because we invest in the latest and most advanced barbering equipment.
Our tools are carefully selected to enhance the quality of your grooming experience, ensuring that every beard lineup and haircut is executed with the utmost care. Think of the following:
High-quality straight razors
Barber chairs with recline and swivel features
Hot towel warmer cabinets
Professional clipper and trimmer sets
Shaving cream dispensers
Beard and hair combs and brushes
Hair and beard styling products
Stylish and well-lit mirrors
Sanitizing equipment for hygiene
Comfortable waiting area furniture
Best Hair Products
Your grooming experience is not complete without the right hair products. We use and recommend the best hair products to keep your hair healthy and looking its best.
Whether it's a post-shave moisturizer or the ideal product to maintain your haircut's style, we ensure you have access to the highest quality products that complement our services and contribute to your overall satisfaction.
Related Article: Dos And Don'ts Of Men's Hair Care: A Comprehensive Guide
Best Barber Shop for Men in Barrie: Real-Life Reviews
Here's what our clients have had to say about us:
Austin D: "All around great salon. High quality cuts with high-quality people and service! Been going to Ilan for about a year now, have been happy with every cut!"
Adrian B: "First time, and I couldn't have been more satisfied. Fade Artist Barber and his colleagues were very welcoming, talented, and professional. The haircut was gentle and of high quality, followed by a good shave and then shampoo. That was all $25!!! I also like to recommend to friends because they are just as good."
Alex S: "Best guy around! Need a fresh cut? He is your guy! 10/10"
John D: "I've been a loyal customer at Barrie's Barber Shop for years. Their stylists are skilled and always give me the perfect haircut. The friendly atmosphere keeps me coming back."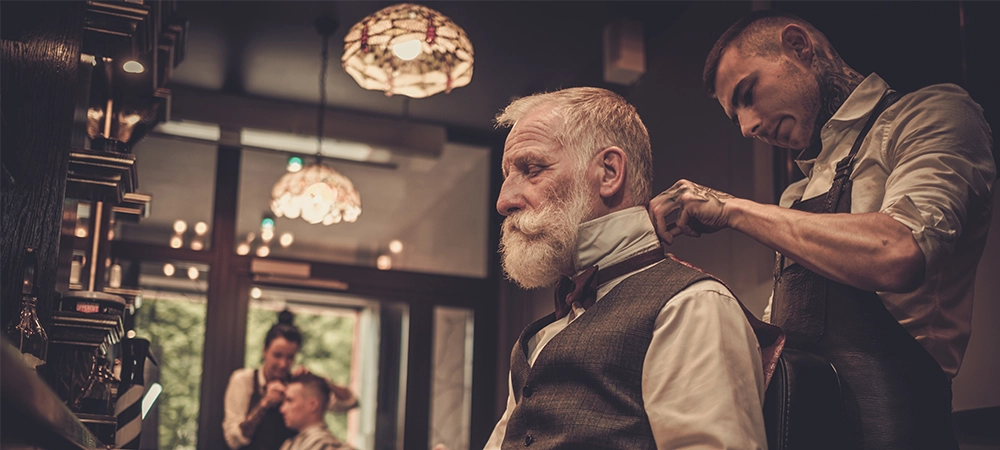 Choose Fade Artist Barber Lounge Today
We stay at the forefront of haircut trends, offering you not just a service but a statement. Our commitment to using the most advanced barbering equipment ensures precision and perfection. Our dedication to the best hair products ensures that your hair not only looks great but remains healthy.
At Hair Salon Barrie, we've sculpted an experience that is not just about hair; it's about confidence, personality, and the transformation of the self. Join us on this creative journey, where each visit to our shop is a masterpiece in the making.
This is a barbershop where creativity knows no bounds. Call us at +1-705-896-7524 to book an appointment or visit our barber shop at 3581 6th Line, Innisfil, ON L9S 3L7 today.