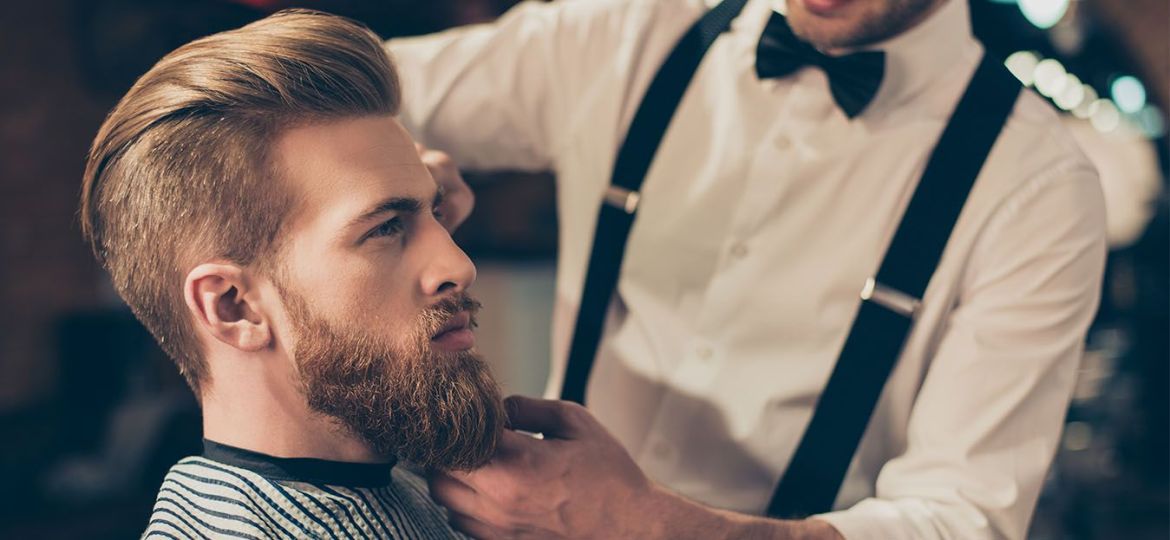 For many men, having a receding hairline can be a deflating realization. It can affect your confidence, but thankfully, there are plenty of hairstyles out there that will put a spring back in your step. Here we've found 10 great hairstyles for men with a receding hairline.
1. Buzz Cut
When it comes to a receding hairline, you have three options. You can either embrace it, hide it, or divert attention away from it. The buzz cut is embracing it. Everyone can see you have a receding hairline, but you're not bothered about it.
Due to the short hair, your hairline doesn't stand out as with other hairstyles, and therefore you can carry it with confidence. A buzz cut is where you get your hair cut short the same length all over, so it's probably the easiest haircut to maintain.
2. Shaven Head
Perhaps the most effective way to hide your receding hairline is to have no hair at all! Dwayne Johnson, Jason Statham, Bruce Willis, and Mike Tyson are all examples of men who have decided to go with the shaven look.
Here you are embracing your bald head before you go fully bald. It gives you control over the situation, and let's be honest, all the men above look great. The bald look suits many men, so you shouldn't be worried about taking this leap.
3. Modern Comb Over
When we talk about the comb over, we aren't talking about the old style of desperately trying to cover the middle of your bald head with hair swept over from the side and kept in place with a huge amount of product.
The modern comb-over is subtler. Here you gently part your hair over from one side to the other, with your hair being combed over to one side. This can partly hide your receding hairline while still looking fashionable.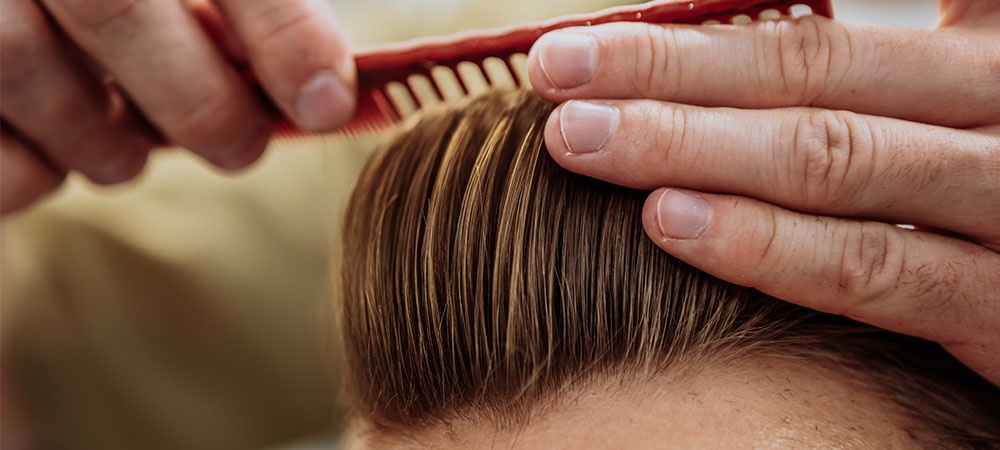 4. Slicked Back
The buzz cut embraces your hairline, and the comb-over and shave hide it, but this style is about diverting attention away from it. The slicked-back hairstyle involves combing your hair back and adding in a little product.
Combing it back helps to give it plenty of volumes, which diverts the eyes away from your hairline. It's great for those who still have thick hair. You can even have this in the undercut style to make something more dramatic and bold.
5. Long Hair
Another great option for those with thicker hair is to grow it out long. There is a multitude of styles you can pick from here, but the benefits are obvious. That long hair flowing down the sides of your head will help to hide your receding hair.
This can feel like you are fighting back against your hair loss. While your hairline may not be what it used to be, you still have plenty of hair to make up for it. It can allow you to feel like you're taking back control but, of course, having long hair isn't for everyone.
6. Short and Messy
For those who don't want long hair but still want the same effect, the short and messy hairstyle can save you from any insecurities about your hairline. While called short and messy, the hair length will be almost medium length, and you'll have plenty to work with.
With this, you'll run some product through your hair but without styling it in any particular way. Jamie Dornan has often been a great example of this style. Having it messy allows it to naturally fall over your receding hairline and hide it away.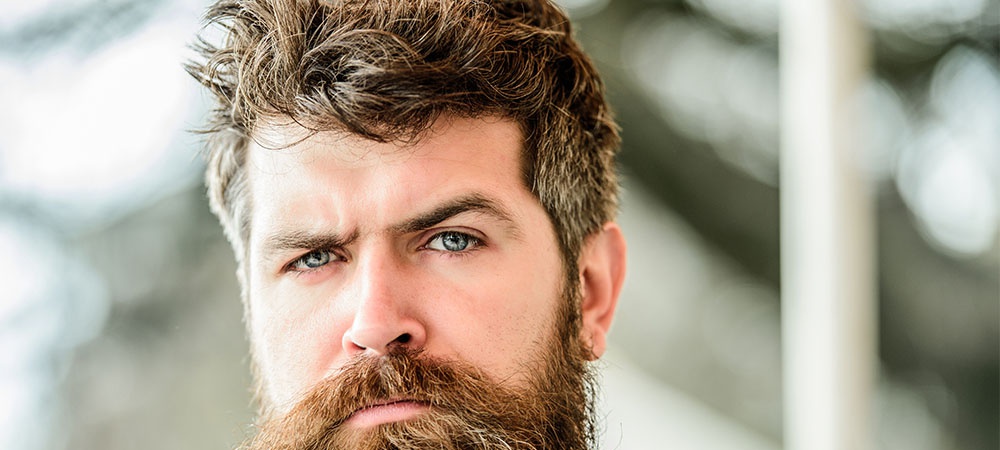 7. Blowout
The blowout is an extreme example of the slicked-back style we looked at earlier. Instead of your hair being slicked back, with the blowout, you want your hair to be as high as possible. It requires plenty of product but usually with something like matte clay, as it looks best without a shine.
This style creates plenty of height and volume and looks great on many men. It can also look great with a beard, but this may not be the best idea if you have a long face. This style doesn't hide your receding hairline, but it's the ultimate statement that you don't care.
8. Brushed Forward
Want to hide your hairline? There aren't many better options than the brushed forward. Instead of having it brushed back, you can just let it fall down onto your forehead. You can use any type of product you want, and you'll look great.
Just having hair brushed forward without any other styling won't look fashionable, so you'll want it to be a little more eye-catching. One way to do this is to have faded sides. A mid or high fade looks best and immediately transforms this hairstyle into a striking look.
9. Messy Fringe
An alternative to the brushed forward hairstyle is to have a messy fringe. This is less structured but with plenty of hair covering your forehead. This is a fashionable hairstyle among young men, so it won't look like you're trying to hide anything.
This can look particularly great if you have curly or wavy hair. As with the brushed forward, this looks great with faded sides but can also look good with longer sides. You can even have this messy fringe with an undercut for an aggressive look.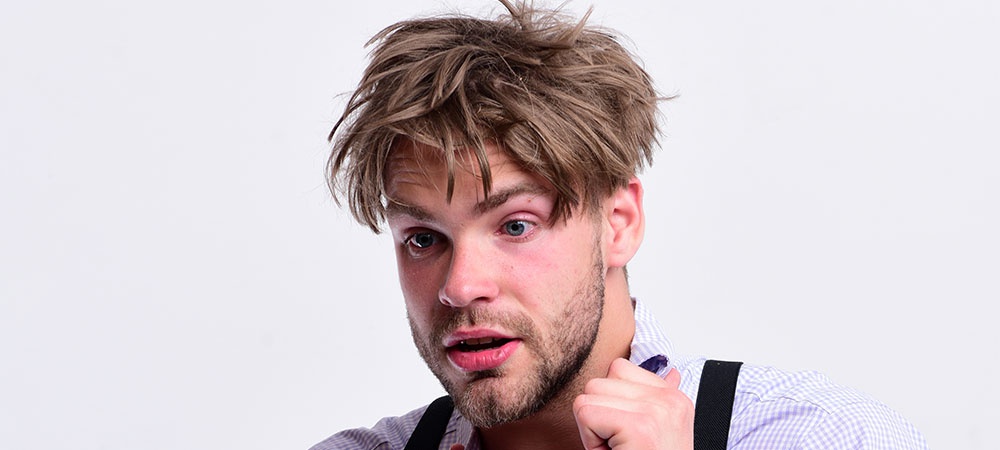 10. Faux Hawk
We end with another hairstyle that is great for diverting attention away from your hairline. If you don't know what a faux hawk is, then you must have heard of the Mohawk. The faux version is a little less dramatic, wider, and with more hair on the rest of your head.
Here the middle of your hair is tapered up to a point. You can have the sides as short or as long as you want. Having medium-length hair on the sides allows you to brush your hair forward to cover your receding hairline while still having plenty of style on top.